Thousands of individuals use digital wallets on a daily basis. The B2BinPay system has just been upgraded with new capabilities to facilitate the incorporation of crypto payments into your business.
B2BinPay: A Major Upgrade to the Top-Notch Crypto Payment Solution
B2BinPay is a well-known cryptocurrency processing company that has received various industry honors since its debut in 2017. B2BinPay swiftly grew in prominence as the need for cryptocurrency payments increased. It has risen to become the market's most popular payment method. The recently released version 2 has built on the success of its predecessor by adding new features and a wide variety of new capabilities to assist fulfil high-speed transaction demands. The most noteworthy improvements include the updated user interface, which makes things like depositing and tracking transactions easier. Furthermore, enhanced security features are accessible. Clients now have access to a quicker, more feature-rich crypto processing solution that employs cutting-edge technology and gives the industry's greatest user experience.
What Makes B2BinPayLook Out?
Businesses may use B2BinPay to send, receive, store, and exchange bitcoin payments anywhere around the world. All activities are safe and cost-effective, and they are completed in a matter of minutes. Our Bitcoin payment solutions enable businesses to experience the full potential of digital currency operations while reaping all the benefits of employing the cutting-edge payment method.
An Ingenious Business Model for All Sectors
The second edition of B2BinPay includes several changes for payments in Fiat, Crypto, and Stablecoins. Merchants, for example, may quickly change one currency into another. Supporting digital currency payments is a terrific approach to acquire new customers and outperform your competition. Customers may take advantage of all the benefits of the dependable solution, which accepts payments in Bitcoin, Ether, Bitcoin Cash, Ripple, and a variety of other popular cryptocurrencies. Furthermore, B2BinPay offers a simple four-step payment procedure that accepts Litecoin (LTC) and many other cryptocurrencies as payment options in a quick and easy four-stage process: Invoice, Payment, Conversion, and Settlement.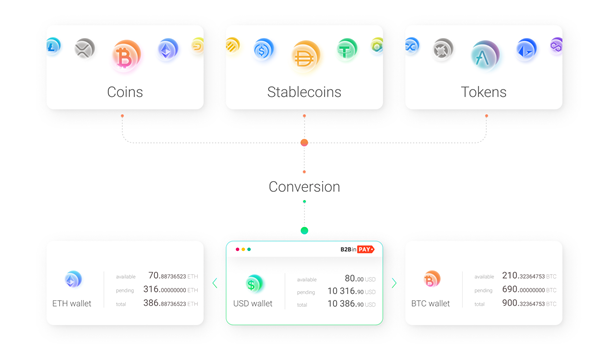 Settlements
By receiving Wire Transfer rewards, merchants may instantly transform digital money into cash. Direct settlements to a bank account are offered for Fiat (US Dollar and Euro), leading cryptocurrencies, and Stablecoins via a number of safe solutions (e.g., SWIFT, SEPA, and Faster Payments). Following blockchain validation, the best crypto payment system turns a client's money into the currency of their choice. Furthermore, B2BinPay offers Easy Exchange for settlements in another currency, as well as Actual Exchange for sending one coin and receiving another directly into the crypto wallet.
Withdrawals by Bank
You can make a one-time withdrawal or set up recurring payments (the final decision depends on your needs). B2BinPay offers flexible settlements in currencies other than those specified in the wallet settings. After completing the KYC/AML procedure established by the merchant, clients can have access to the top-tier solution.
An option that is technically perfect
B2BinPay provides consumers with a dependable choice that combines a variety of features for the greatest user experience. The award-winning service with EU legislation offers tremendous prospects for company owners to benefit from fresh new features such as a single unified API for multichain systems that can be linked into your business through Rest API. The cutting-edge technology enables access to the market's best invoicing, acquisition, and administration solutions. You may use our payment page or the feature-reach API to integrate it. Because it has been well tested, the integration is straightforward and secure.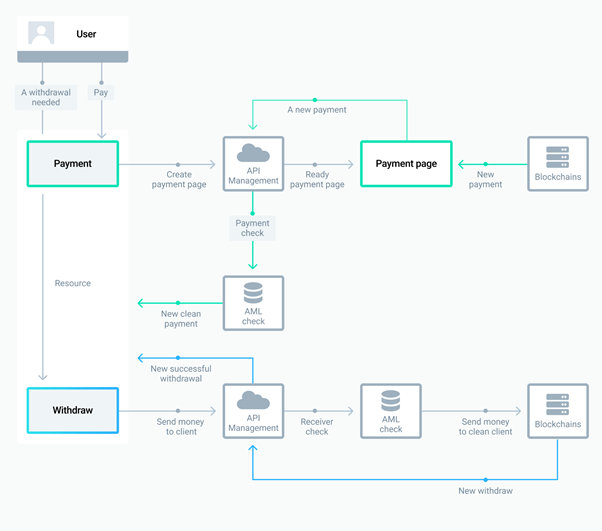 What are the primary features of B2BinPay v.2?

B2BinPay offers a comprehensive set of capabilities to businesses in order to deliver the greatest crypto payment experience possible. The following are the most important functions:
Controlling Transaction Speed
You may easily regulate the transaction pace. Keep in mind that the processing time is determined on the fee volume. You can also specify your own commission level.
Notifications
By adding the email address to the "Notification addresses" list, you may get notifications about all actions in the bitcoin exchange White Label system.
The Address Book
Addresses can also be saved for a quick settlement. Simply input a new address, check a box, and store it in the Address book. After that, you can generate a quick payment.
Suspicious Operations Surveillance
The most essential aspects of any financial system are safety and security. To identify numerous login activities and avoid hacker assaults, use the suspicious activity monitor.
Other Precautions for a
Superior Customer Service
Our staff of experts is available 24 hours a day, seven days a week to assist consumers. To request assistance, open a support ticket in the HelpDesk, submit some extra information (e.g., images or files), and check the status of your request.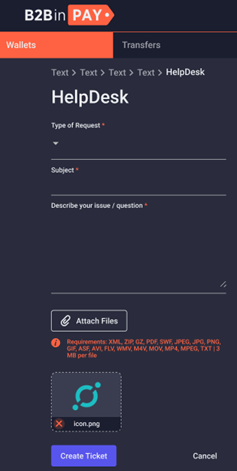 Excellent Solution for All Business Models

Any business can quickly incorporate cryptocurrency processing. You may also design a whole new service for working with digital materials. Our solution is suitable for a wide range of enterprises, including FX and cryptocurrency brokers, exchange platforms, e-gaming, gambling, e-commerce, dating, hedge funds, the travel industry, and others.
B2BinPay is now a first-rate option for integrating crypto payments, thanks to a significant upgrade. No matter what sort of business you run, you can effortlessly integrate B2BinPay. You'll be ready to take payments in leading cryptocurrencies after a simple setup. Apply for a high-end solution today!